A one-stop minimart for all your needs from daily fresh products, groceries, to household essentials, bill payments and mobile top-ups.
We promise to deliver fresh, quality products for you and your family, so there's one less thing to worry about because we got you covered!
Browse our latest deals and enjoy extra savings.
Be part of our Giant Mini workforce!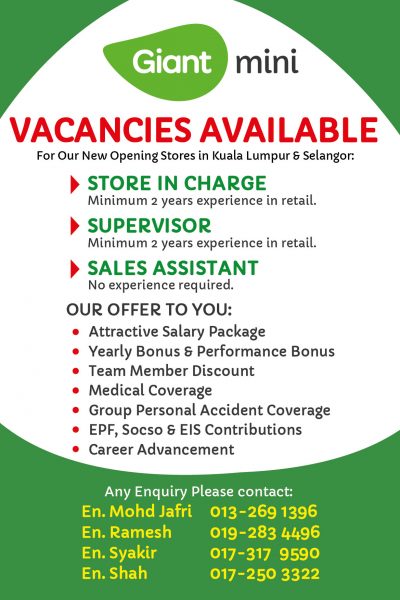 As part of Giant's continued commitment to serve our valued customers better, we has extended our Giant Value to your neighbourhood:
Swing by our new one-stop minimarts:
Jinjang Utara
Dataran Dwitasik
Elmina East
Taman Tenaga
Bandar Baru Sentul
Sunway Mentari
Sri Gombak
Pandan Mewah
And more coming soon to you!
Giant Mini KL Traders Square
No 92-G, Block E, Plaza KL Traders Square, Jalan Gombak, 53300 Kuala Lumpur
Giant Mini Melati Utama
No 59G, Jalan Melati Utama 4, Melati Utama, 53100 Kuala Lumpur
Giant Mini Taman Tun Dr Ismail
6, Jalan Tun Mohd Fuad 2, Taman Tun Dr Ismail, 60000 Kuala Lumpur
Giant Mini Taman Melawati
44, Jln Bandar 3, Taman Melawati, 53100 Kuala Lumpur
Giant Mini Maxim Citilights
No. S-G-05, Maxim Citylights Sentul, No. 25, Jalan Sentul Perdana, Sentul, 51000
Giant Mini Bandar Baru Sentul
43-0-5, Jalan 1/48a, Bandar Baru Sentul, 51000 Kuala Lumpur
Giant Mini Pantai Dalam
No. 29, Jalan Pantai Murni 6, Pantai Dalam, 59200 Kuala Lumpur
Giant Mini Bandar Sri Damansara SD 13
No. 7-1, Ground Floor, Jalan Meranti SD 13/4, Persiaran Meranti, Bandar Sri Damansara, 52000 Kuala Lumpur
Giant Mini Jalan Sutera Cheras
No 5-G, Ground Floor, Jalan Sutera 1, Taman Sutera Residences, 43200 Cheras, Selangor
Giant Mini Taman Abadi Indah
30, Jalan 3/109C, Taman Abadi Indah, Taman Desa, 58100 Kuala Lumpur
Giant Mini Taman Sri Rampai
31, Ground Floor, Jalan 46A/26, Taman Sri Rampai, 53300 Kuala Lumpur