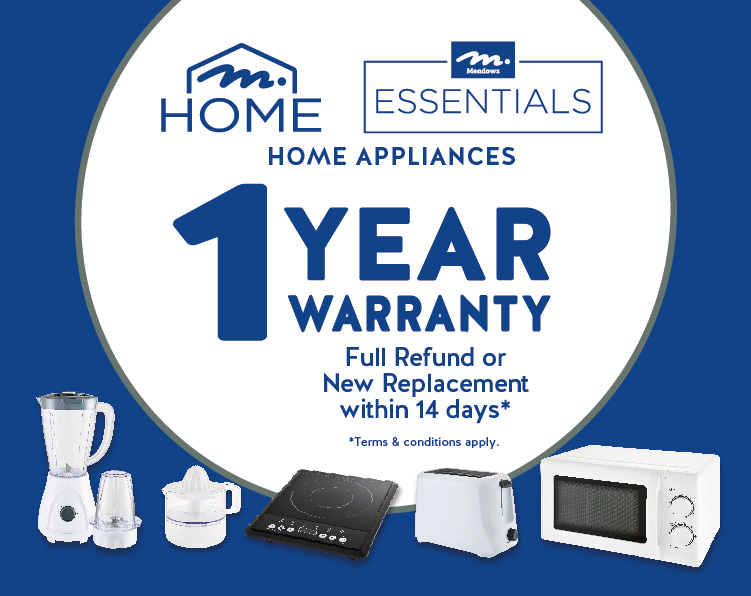 English
1. A Customer may get a full refund or replacement within 14 days of the date of purchase if the product does not match their expectations, A purchase receipt is required to be produced along with the product (in its original packaging and not damaged or altered in any way) for the Customer to receive the full refund or replacement.Meadows warrants its products for a period of ONE year from the date of purchase as long as documented proof is produced, by means of the purchase receipt attached to this warranty card.


2. The purchase receipt must be dated no earlier than ONE year before the date of claim.


3. If any defect is due to faulty materials and/or workmanship within the warranty period,  Meadows will undertake to replace the product entirely.


4. If the said product is no longer sold in market, Meadows shall replace the product with another product of a similar specification and price at its sole discretion.


5. Meadows shall not be liable for any direct or indirect loss or damage to any person or property, howsoever arising from improper use, or any stoppage, breakdown or failure of the product.


6. To the maximum extent permitted by law, Customer's exclusive remedy and Meadows's sole liability with regard to any breach of this warranty will be, at Meadows's option and expense, to either
(i) replace the defective product entirely; or
(ii) replace the product with another product of a similar specification and price at Meadows's sole discretion.


7. This warranty applies only for products purchased and used for domestic purposes only. This warranty does not cover any damage which occurs as result of misuse, negligence, failure to follow Meadows instructions (if any),  or a modification or unauthorized repair of the product, faulty packaging by the owner or mishandling by any carrier. This warranty does not cover normal wear and tear, maintenance or replacement of consumable parts, or damage to any glass or porcelain ware in the product. This warranty card is valid only when the product batch number is matched with the product.


8. Save and except only for this warranty card, any other warranty card issued by other parties will not be recognized.Customer is responsible to bring back the product to the store of purchase, and to pick up the replacement from the same location.
9. In case there is any inconsistency of conflict between the English version and other language versions of these terms, the English version shall prevail.
Bahasa Melayu 
1. Pelanggan boleh mendapatkan bayaran balik sepenuhnya atau penggantian dalam masa 14 hari dari tarikh pembelian jika produk tidak sepadan dengan jangkaan mereka. Resit pembelian diperlukan untuk dihasilkan bersama dengan produk (dalam bungkusan asalnya dan tidak rosak atau diubah dalam apa cara sekalipun) untuk Pelanggan menerima bayaran balik penuh atau penggantian. Meadows Waran produknya untuk tempoh SATU tahun dari tarikh pembelian selagi bukti didokumenkan dihasilkan,melalui resit pembelian yang dilampirkan pada kad jaminan ini.


2. Resit pembelian mestilah bertarikh tidak lebih awal daripada SATU tahun sebelum tarikh tuntutan.


3. Sekiranya ada kecacatan yang disebabkan oleh bahan rosak dan / atau mutu kerja dalam tempoh jaminan, Meadows akan berjanji untuk menggantikan produk sepenuhnya.


4. Sekiranya produk tersebut tidak lagi dijual di pasaran,  Meadows akan menggantikan produk itu dengan satu lagi produk yang mempunyai spesifikasi dan harga yang sama mengikut budi bicara mutlaknya. Meadows tidak akan bertanggungjawab bagi apa-apa kehilangan atau kerosakan langsung atau tidak langsung kepada mana-mana orang atau harta,  walau apa pun yang timbul daripada penggunaan yang tidak wajar, atau apa-apa penamatan, kerosakan atau kegagalan produk.


5. Setakat yang dibenarkan oleh undang-undang, ubat eksklusif Pelanggan dan Meadows Liabiliti tunggal berhubung dengan apa-apa pelanggaran jaminan ini akan, pada opsyen dan perbelanjaan Meadows, sama ada
(i)  menggantikan produk yang rosak sepenuhnya; Atau
(ii) menggantikan produk dengan satu lagi produk spesifikasi dan harga yang sama di Meadows.Jaminan ini hanya digunakan untuk produk yang dibeli dan digunakan untuk tujuan domestik sahaja.


6. Jaminan ini tidak melindungi apa-apa kerosakan yang berlaku akibat penyalahgunaan, kecuaian, kegagalan untuk mematuhi arahan Meadows (jika ada), atau pengubahsuaian atau pembaikan tanpa kebenaran produk, pembungkus yang salah oleh pemilik atau salah laku oleh mana-mana pembawa.


7. Jaminan ini tidak meliputi haus dan lusuh biasa, penyelenggaraan atau penggantian bahagian-bahagian yang konsisten,  atau kerosakan pada sebarang kaca atau porselin dalam produk. Kad jaminan ini hanya sah apabila nombor kelompok produk dipadankan dengan produk. Simpan dan kecuali hanya untuk kad jaminan ini, sebarang kad jaminan lain yang dikeluarkan oleh pihak lain tidak akan diiktiraf.


8. Pelanggan bertanggungjawab untuk membawa semula produk ke kedai pembelian, dan mengambil penggantian dari lokasi yang sama.


9. Sekiranya terdapat sebarang percanggahan konflik antara versi Bahasa Inggeris dan versi bahasa lain dalam istilah ini, versi Bahasa Inggeris akan diguna pakai
中文 
1. 如产品与顾客期望不符,顾客可在购买后14日内申请全额退款或更换产品。

 



2. 顾客必须出示购买收据及原始包装的产品(未发生任何损坏或变更),方可享受全额退款或更换产品。

 



3. Meadows承诺自购买之日起一年内保修,顾客应提供本保修卡及附带的购买收据。购买收据的日期应在申请保修日之前一年以内。

 



4. 如保修期内发生瑕疵材料和/或工艺引起的任何故障,Meadows将为顾客更换整件产品。如该产品已在市场售罄,Meadows将酌情更换类似规格和价位的其他产品。Meadows不因产品使用不当或停止运行、发生问题或故障导致的直接或间接个人或财产损失或损害承担任何责任。在法律允许的范围内,顾客享受的唯一补偿及Meadows对于违反保修规定的唯一责任在于,Meadows可选择并承担
(i) 更换整件瑕疵产品;或
(ii) Meadows酌情更换类似规格和价位的其他产品。


5. 本保修卡仅适用于出于家用目的购买及使用的产品。本保修卡不涵盖由于误用、疏忽、未遵守Meadows的使用说明(如有);
更改或未经授权修理产品;产品所有者包装不当或承运方处理不当引起的损坏。

 



6. 本保修卡不涵盖正常损耗、耗材维护或更换、产品玻璃或陶瓷元件损坏。产品及其批号必须相符,本保修卡方可生效。

 



7. 除本保修卡之外,他方出具的任何其他保修卡均不被认可。顾客应自行将产品送至购买门店并在同一地点取回更换的产品。

 



8. 如英文版与其他语言版本的条款存在任何冲突,应以英文版为准。